How is it the end of March already? I blinked and it's already the 29th March. What is going on?! I have been so busy this month I have had no time for myself whatsoever, however I do seem to have had time to use up a few products which is what I am going to show you today.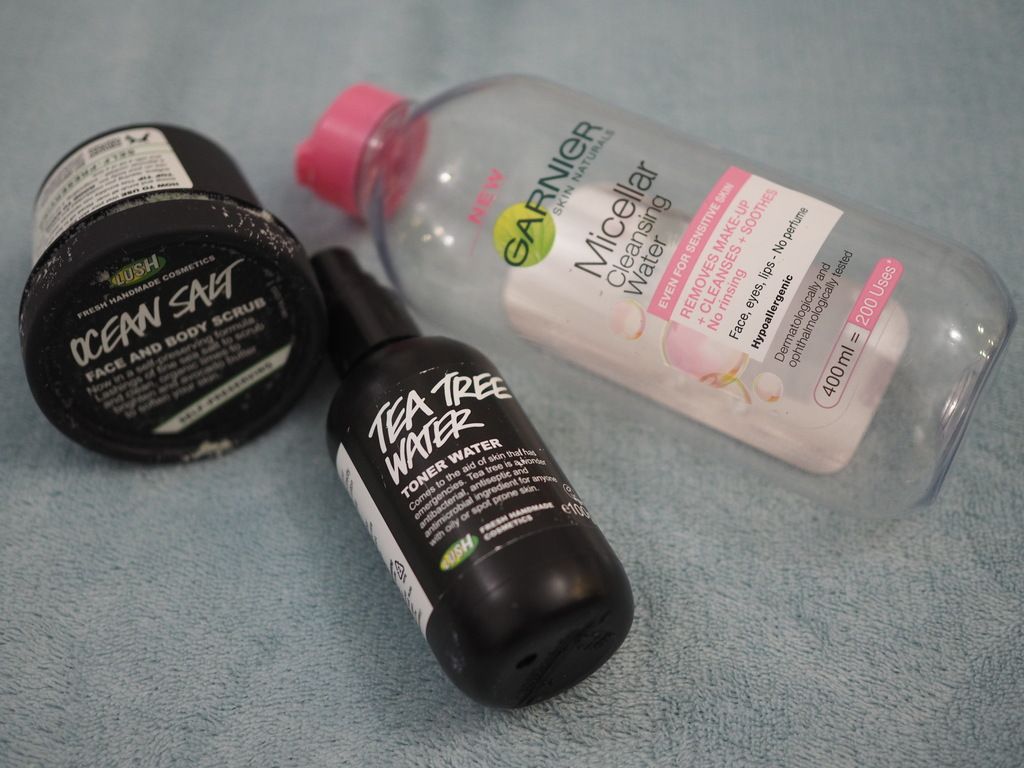 Lush Ocean Salt Face and Body Scrub


I absolutely love this scrub and have been using this on my face in the mornings whilst in the shower. The packaging says 'this scrubby mix removes dead skin and softens, leaving you moisturised and supple'. I use this in the morning to remove any dirt on my face from my sleep and the limes leave my skin feeling fresh and ready to face the day. After use I do feel the softening effect, it's not too harsh on my skin. My skin has been feeling great since I started using this. Warning! If you accidentally get this in your mouth, especially in the morning, it's so gross. It's so salty. Learn by my mistakes and don't get it in your mouth. Will definitely buy this again.



Lush Tea Tree Toner Water

Another product I have been using in the mornings before moisturising. Lush states that this toner water 'comes to the aid of skin that has emergencies'. I have sworn by tea tree for years. It is antiseptic and antibacterial and does wonders for acne prone skin so I had to try this product. Some tea tree products can be quite harsh and drying to the skin but I feel that this product does not do that. It's a very gentle but very good toner water. I will be repurchasing this product.
Garnier Micellar Cleansing Water

I bought this from the supermarket when I was in desperate need of a new cleanser. I purchased this particular cleanser because it's apparently 'even for sensitive skin' and 'removes make-up + cleanses + soothes'. This product has no perfume which is perfect for my skin as I can sometimes get quite sensitive skin. I use this at night after removing my make-up and I feel that it removes any excess dirt whilst not being too drying or harsh on my skin. I would certainly buy this again.




E45 Moisturising Lotion

I purchased this for one reason - it's perfume free and as I have already mentioned, my skin can get quite sensitive. I use this now and then on my face in the evenings and sometimes mornings, however I feel that it is a little too greasy to wear under make-up. I have also used this all over my body however it's not very thick so I think it's a bit too watery to moisturise the rest of my body. I think this product is great if you are looking for a perfume free facial moisturiser to use in the evening for sensitive skin. I have been using this moisturiser for years and will continue to re-purchase.

Bio-Oil

My Mum actually gave this to me as I have some scars on my face from an injury that I had years ago. Bio-Oil is especially for scars as well as stretch marks, uneven skin tone, ageing skin and dehydrated skin. I'll be honest, I have no idea if it's done anything for the scars. I feel like it might have but I haven't been using it that often, only when I remember. When I massaged this onto the scars in the evening I also massaged it into the rest of my face. It was so moisturisng and my face felt incredibly soft. I have a feeling that Bio-Oil is quite expensive but I am going to buy this again.

Eve Lom Rescue Mask

I received this in a beauty box and seeing as I don't have any beauty box subscriptions it must have been some time ago. I found this when I moved house and one day my skin was in a greasy desperate need of something so I gave this a go and loved it! The Eve Lom website states that this is a 'weekly complexion booster and emergency treatment for sluggish, stressed-out skin'. I applied this all over my face and then about 15-20 minutes later I rinsed off with a cloth. It's quite clayish and you have to apply it quickly as it drys quite fast. After washing off this mask my face feels amazing!! It feels so cleansed and oil free. At £35 for 50ml I feel that this product is quite expensive but you don't need to use it everyday. I used this once every two weeks-ish and it did last for quite some time for only a little 15ml tube so I would buy this.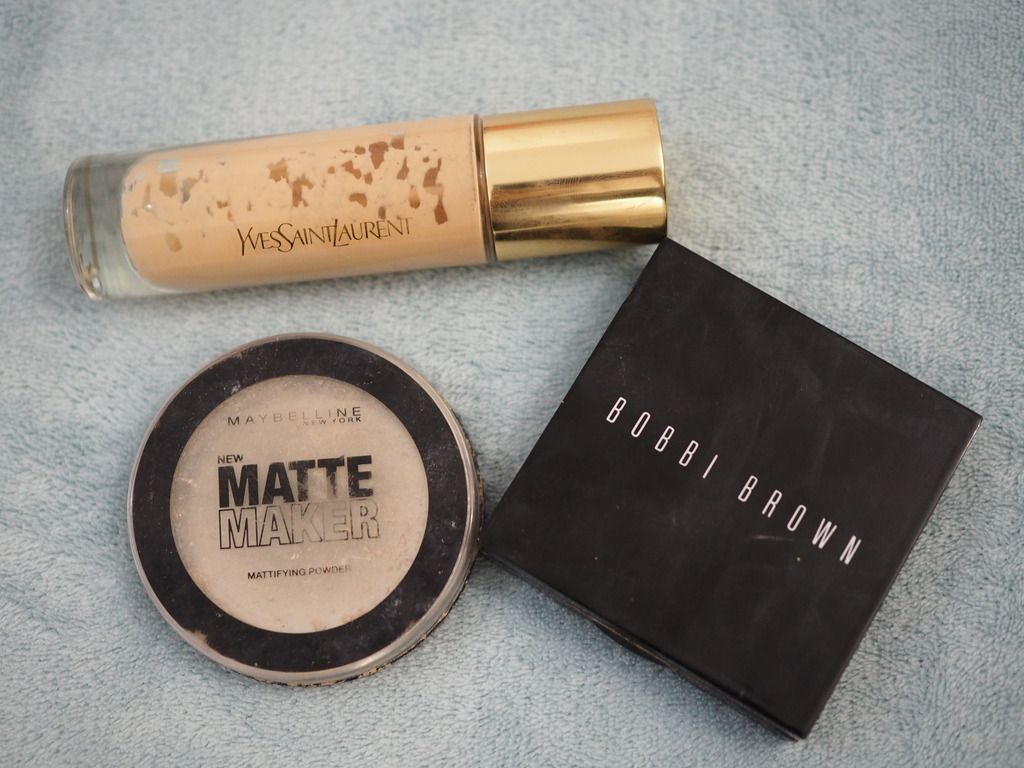 Yves Saint Laurent Touche Èclat Le Teint


Quite possibly my favourite foundation EVER!! The website says '8 hours of beauty sleep in a foundation'. This product is so lightweight and my face feels as if I'm not wearing anything on it at all however it provides good coverage. This apparently has a light-reflecting formula and I get that, it does make my face feel radiant. I am very pale and I have this in shade B10 which I feel is just one shade too pale for me. I desperately need to buy this again, it comes in a glass bottle and in attempt to use every bit of this (it's £32.50) I have been eeking each drop out with a cotton bud.



Maybelline Matte Maker Mattifying Powder

At £3.99 you can't go wrong but I could either take or leave this powder, in fact I would probably leave it. It's ok if you want a cheap powder with a matte finish. However in my experience it doesn't last all day and by lunch time my face looks oily so would need to re-apply. I actually bought this because I had run out of powder and needed one desparately so went for the cheap option in Boots. I wouldn't re-purchase this, there are far better powders out there. It's also quite crumbly and tends to go everywhere including my clothes and carpets - or perhaps I'm just messy at applying make-up.

Bobbi Brown Sheer Pressed Powder

I would buy this again and again. I feel this is a great foundation setting powder and gives a smooth finish. The website states this product is 'oil-absorbing, with vitamin E' and it definitely does it's job. I could put this on in the morning, and nine hours later the oil is only beginning to show through. I hate a heavy powder and this is very lightweight. I have been using this on top of the YSL foundation and also the Charlotte Tilbury Magic Foundation. This product is £26 and seemed to last for a long time, plus the powder didn't go everywhere which is a bonus. I bought shade Sunny Beige which was perfect for my pale skin tone.
What are your favourite products of the month?